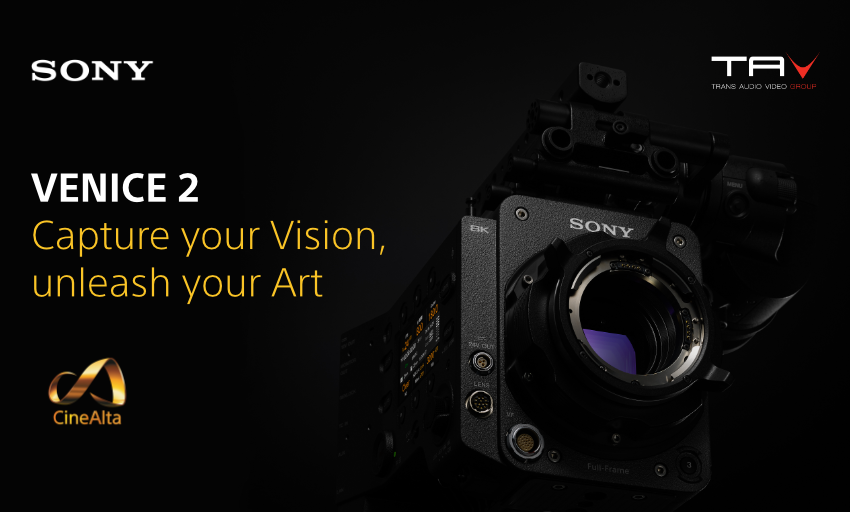 La nuova telecamera cinematografica digitale Full Frame.
Venice 2 è il nuovo modello di punta della gamma di telecamere cinematografiche digitali della serie Sony CineAlta.
Declina i punti di forza del modello Venice originale con nuove soluzioni tecniche e funzionalità tra cui un design compatto, grazie alla registrazione internain formato X-OCN e ProRes 4K, e l'opzione di montaggio di due diversi sensori: Full Frame 8.6K di nuova concezione e il sensore Venice 6K originale.
Il nuovo sensore si traduce in una straordinaria qualità dell'immagine e un'incredibile sensibilità in condizioni di scarsa illuminazione
Abbinato al sensore CMOS full frame da 8,6 K (8640 x 5760) di nuova concezione, Venice 2 offre un'eccellente qualità dell'immagine con 16 stop di latitudine totale per catturare immagini uniche con un'eccellente separazione dei colori e dettagli delle ombre.
Dal modello attualmente in commercio eredita anche la color scienze, molto apprezzata per le sue tonalità naturali della pelle, la funzione Dual Base ISO e filtri ND incorporati per una gestione fino 8 stop.
Supporta formati di ogni tipo, dal full-frame, full-frame anamorfico a Super 35mm, tutto con una risoluzione minima di 4K, risultando così unica ed estremamente versatile.
Design del sensore intercambiabile
Per una flessibilità ancora maggiore in esterni, il corpo di Venice 2 aggiunge la caratteristica unica di poter sostituire la piastra che incorpora il blocco del sensore di immagine. Eì così possibile utilizzarla sia con il sensore 8.6K sia con il blocco sensore 6K originale.
Il corpo della fotocamera riconosce automaticamente la modifica e si avvia senza sostituire o reinstallare il firmware. Il sensore 6K originale consentirà frame rate più elevati.
Ergonomia migliorata con registrazione interna e dimensioni ridotte
Piccolo e leggero ma solido, il corpo Venice 2 sfrutta la nuova scheda AXS AXS-A1TS66 da 6,6 Gbps ad alta velocità per la registrazione 8K 60p. I lettori di schede di memoria AXS esistenti, incluso AXS-AR3 tramite l'interfaccia Thunderbolt 3, sono compatibili con i nuovi supporti.
Inoltre, l'interfaccia utente di Venice 2 è la stessa dell'originale Venice, ma incorpora miglioramenti per renderla più facile e ancora più intuitiva da usare. La nuova camera offre un design del prodotto evoluto, pur essendo compatibile con quasi tutti gli accessori originali Venice.
Queste le principali caratteristiche di Sony Venice 2 con sensore 8K:
– 8.6K Full-Frame Image Sensor
Full-Frame 8.6Kx5.8K 3:2 up to 30FPS
8.2Kx4.3K 17:9 up to 60FPS
Like VENICE, several imager modes will be installed for Super 35mm, Anamorphic and HFR shooting in firmware version up
16 Stop total Latitude and same color reproduction with VENICE
800 and 3200 dual base ISO
– X-OCN internal recording and ProRes 4K recording by small body
Almost same body size with VENICE (w/o R7) and X-OCN internal Recording
Newly support 4K ProRes recording from 8.6K sensor by oversampling
Two AXS Memory media slots supporting Relay rec.
XAVC 4K/HD is NOT supportedand Simultaneous Rec. is NOT supported
– Improvements from VENICE based on Voice Of VENICE Users
4K LUT applied and higher grids cube file's picture quality than VENICE
LUT/ACS-CDL control via Ethernet/Wi-Fi
Zoom to Fit (Full-Frame recording and 17:9/16:9 monitoring) operation
Ethernet connector position changed to Camera Assistant side
Lemo2pin 12V output connector from Hirose 4 pin
Internal mic installed
– Sensor Interchangeable with VENICE 2 6K and VENICE OHB block
Users can change to 6K OHB block (VENICE 2 6K and VENICE)
Camera body recognizes changing OHB block and start-up automatically (no need firmware exchange or re-install)
Disponibilità
Sony Venice 2 con sensore di immagine 8.6K sarà disponibile a febbraio 2022 mentre la versione con sensore di immagine 6K preinstallato a marzo 2022.
Per maggiori informazioni scarica qui il datasheet